News
04 October 2009
Archery GB - National Series 2009
Target Tech Ltd sponsor the Archery GB National Series Grand Finals held at the prestigious Lilleshall National Sports Centre (UK) on the 4th October 2009.
  We were pleased to offer our support to this exciting series of events held throughout the UK during 2009. The final stage, at Lilleshall, needed targets for use during the competition and the winners of each category received an Atlas Target 1280-1 as a prize.

  As the tournament progressed, the final leg was left with two archers shooting onto individual Atlas 1280-1 targets. Below, the judges & support team are scoring and collecting arrows... nothing could be easier!

The organisers were concerned about the use of Compound Bows during this event...
  Specifically the extremely fast, high poundage, Matthews Monster used by Chris White. Though even the ladies were setting-up their bows right on the 60lbs draw weight limit... this is not a problem! Our targets have been designed to cope with any bow type, even very fast & high poundage compounds. For more information please take a look at the design page.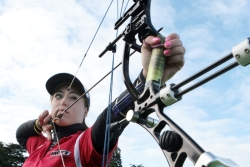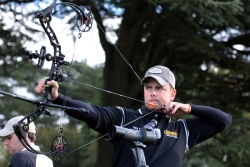 The Gents Compound Finalists were Duncan Busby & Chris White. Duncan just managed to nose ahead of Chris with scores of 207 and 206 respectively. From a potential maximum of 210, Duncan dropped just 3 points (21 arrows shot), excellent shooting and a true test for any target!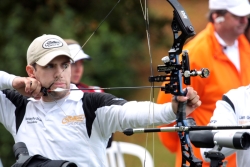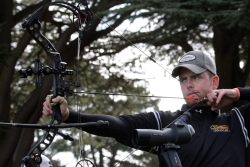 The winners each received an Atlas 1280-1 target and a rather large cheque!